You are reading...
Hillmann Makes Zweig's 2022 Hot Firm List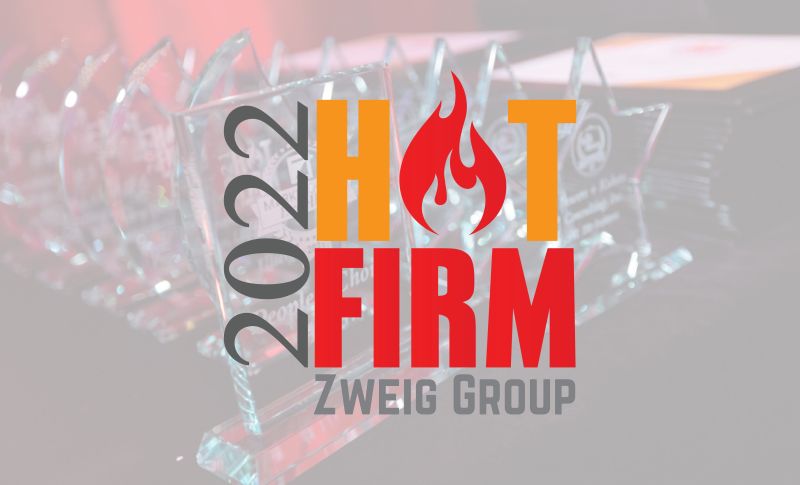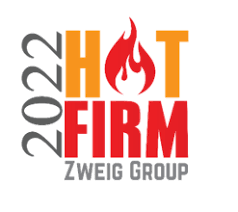 Zweig Group has announced the 2022 Hot Firm List, and Hillmann Consulting, LLC is honored to be on it for the third year in a row! Zweig Group's Hot Firm List honors the fastest growing firms in the architecture, engineering, planning, environmental and construction (AEC) industry. Firms are ranked based on three-year growth in revenue, by both percentage and dollar growth. Winners will be celebrated at the annual Elevate AEC Conference & Awards Gala in Las Vegas.
The complete list of the 2022 Hot Firm winners can be accessed here.
About Hillmann Consulting, LLC
Hillmann has always been a firm that strives to understand our client's business goals and incorporate those goals into our approach. Our success is based on seeing the "big picture" for our clients and matching our recommendations to their goals. We have found that staying true to our mission and core values is the best formula for healthy growth, and we are proud to say that the vast majority of our early clients are still partnering with us today.
Our areas of expertise includes, but is not limited to, Environmental Health & Safety, Due Diligence & Remediation Management, and Construction Services. We also maintain an in-house environmental Laboratory dedicated to providing top tier analytical services to our clients. We're strategically positioned to provide services in any market.
At Hillmann, we strive to make a better future for all the communities we touch.
The Value of Business Ownership
Business ownership can be one of the most rewarding things for any person to participate in. In a recent Zweig Group blog, Mark Zweig shared the things that makes him happy as a business owner. Our CEO, Chris Hillmann, connected to this blog on so many levels. Here are some of the things that made Mark Zweig happiest as a business owner:
Being able to create good jobs. There is little that's more gratifying than being able to offer a good job to someone who may not have that opportunity if not for you. More than once, we hired people who didn't have the degree they were supposed to have to do a certain job, or people who had just gotten divorced and badly needed a job, or people who were mistreated at their prior job and were beaten down. When you own the business, you are ultimately in control of who works there. Knowing that you are helping people out by giving them a job that allows them to afford to support themselves and their families is very rewarding. Seeing all those people with unique skill sets come together to do something collaboratively just gets me excited!
Being able to do something differently or better than what other businesses were doing. This was a huge motivator and reward for me in all of my businesses. In fact, that was a primary reason for starting them in the first place! In every case, we did what we did in new ways or to a higher standard than existing providers. I don't think I'm unique in this regard – most business owners aspire to do this even if they don't always succeed. And when you do (succeed), and get positive feedback from your clients and customers, little is more gratifying.
Being recognized by people in the community as someone who is contributing to making the community a better place. Being in the AEC business, in particular, makes this easy. But any business owner who has a business that creates good jobs and does something to make the community more prosperous, more desirable, safer, or more beautiful can enjoy this important aspect of business ownership!
Curious about the other things that made Mark Zweig's list? Read the full blog here.
Your Property. Our Priority. | Since 1985