You are reading...
Updated Coronavirus Guidance – COVID-19
Coronavirus disease 2019 (COVID-19) is a respiratory illness that can spread from person to person. The virus that causes COVID-19 is a novel coronavirus that was first identified during an investigation into an outbreak in China. We're providing this information for guidance purposes only. Following these guidelines may not prevent individuals from contracting this virus, but they are the best practices at this time. This information was obtained through the Centers for Disease Control and Prevention (CDC) and the World Health Organization (WHO) in an effort to minimize the likelihood that individuals will contract the coronavirus.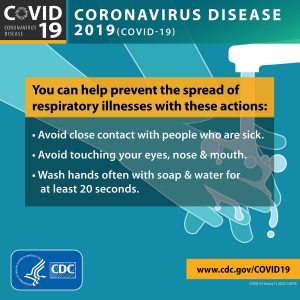 How Does It Spread? The virus is thought to spread mainly from person-to-person between people who are in close contact with one another (within about 6 feet) via respiratory droplets produced when an infected person coughs or sneezes. It may also spread by contact with items contaminated by these droplets. Current evidence suggests that novel coronavirus may remain viable for hours to days on surfaces.
Risk Assessment: For most people, the immediate risk of being exposed to the virus that causes COVID-19 is thought to be low. However, older adults and people with serious chronic medical conditions may be at a higher risk of getting very sick from this illness.  People in places where ongoing community spread of the virus has been reported are at an elevated risk of exposure, with increase in risk dependent on the location.
Symptoms: Fever, cough, and shortness of breath. These symptoms may appear 2-14 days after exposure.
Everyday Precautions at Home: To protect yourself and your loved ones, the CDC recommends the following practices:
Clean your hands often.
Wash your hands often with soap and water for at least 20 seconds, especially after blowing your nose, coughing, or sneezing, or having been in a public place.
If soap and water are not available, use a hand sanitizer that contains at least 60% alcohol.
To the extent possible, avoid touching high-touch surfaces in public places – elevator buttons, door handles, handrails, handshaking with people, etc. Use a tissue or your sleeve to cover your hand or finger if you must touch something.
Wash your hands after touching surfaces in public places.
Avoid touching your face, nose, eyes, etc.
Clean and disinfect your home to remove germs: practice routine cleaning of frequently touched surfaces (for example: tables, doorknobs, light switches, handles, desks, toilets, faucets, sinks & cell phones).
Avoid crowds, especially in poorly ventilated spaces. Your risk of exposure to respiratory viruses like COVID-19 may increase in crowded, closed-in settings with little air circulation if there are people in the crowd who are sick.
Preventive Measures in the Workplace: The basic principles to reduce the general risk of transmission of acute respiratory infections include the following:
Avoiding close contact with people suffering from acute respiratory infections.
Healthcare workers and caregivers who provide care within 6 feet of an ill person should use personal protective equipment (PPE), including gloves, long-sleeved gowns, eye protection, and particulate respirators (N95 or equivalent, or higher level of protection).
Practice cough etiquette (i.e. maintain distance, cover coughs and sneezes with disposable tissues or clothing, and wash hands).
Seek medical care if you have a fever, cough and difficulty breathing. Inform your employer and do not return to work until advised by your medical provider.
Frequent hand-washing with soap and water or alcohol-based hand rub, especially after direct contact with ill people or their environment.
Cleaning and disinfection of surfaces and equipment using an approved Novel Coronavirus (COVID-19) – Fighting Product.
Protecting Staff and Tenants: Prevention is key. It's important to implement proactive measures to help protect the health of your team and tenants. Those measures include the following:
Cleaning surfaces and frequently used items (workstations, countertops, doorknobs, office equipment, light switches, telephones, etc.) with 0.5% sodium hypochlorite solution or an approved Novel Coronavirus (COVID-19) – Fighting Product.
Make the air in your building safer by bringing in more outdoor air in buildings with heating and ventilation systems to help dilute airborne contaminants, making infection less likely. In buildings without heating and ventilations systems, opening a window will suffice. If air has to be recirculated, you can minimize cross-contamination by enhancing the level of filtration. In addition, there is ample evidence that viruses survive better at low humidity, so maintain humidity in the optimal range of 40-60%.
Advise employees to stay home if they are sick.
Purchase supplies, such as tissues, soap, and alcohol-based hand cleaners to encourage healthful habits in the workplace.
Engage your state and local health departments to confirm channels of communication and methods for dissemination of local outbreak information.
__________________________________________________________________________________________________
Emergency/Infectious Disease Preparedness Planning
Employers should be ready to implement strategies to protect their workforce from COVID-19 while ensuring continuity of operations. Local conditions will influence the decisions that public health officials make regarding community-level strategies so employers should take the time now to learn about plans in place in each community where they have a business and include them in their plan.
Our team can assist you with Preparedness Planning by identifying possible work-related exposure and health risks to your employees and making sure your policies and practices are consistent with public health recommendations. Contact us at 908.688.7800 to find out more about Site Specific Emergency Preparedness and Pandemic Planning.