You are reading...
The Benefits of Healthy Indoor Air Quality
Now, more than ever, providing a healthy indoor environment can help establish a building as a premiere property, making it more attractive to potential tenants. Whether it's a commercial or residential property, a proactive approach to Indoor Air Quality (IAQ) is key. The benefits of a proactive approach include the following:
Maintain Healthy Indoor Environments
– Assess present IAQ conditions using direct read instrumentation and applicable analytical methodologies to ensure a more comfortable and productive working environment via monitoring of potential indicator chemicals and pollutants; moisture assessment and management to address water impacted building materials; and the development of corrective action/recommendations to address and rectify potential IAQ issues.
– Accurately and effectively diagnose a building's environment before potential issues become occupant concerns.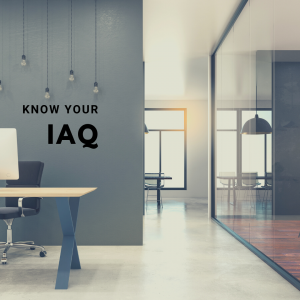 Increase Marketability & Value
– Provide an independently maintained and documented history of indoor working conditions for potential tenants.
– Realize higher occupancy rates which translate into premium lease fees.
Reduce Liability
– Protect your investment with regular assessments to present a comprehensive IAQ program to prospective tenants.
– Avoid costly litigation with evidence of providing a healthy environment with an established proactive plan.
Optimize Building Operations
– Make efficiency improvements to lower operations and maintenance costs and increase capital resources.
– Decrease the time and resources needed to identify the source of occupant complaints.
– Provide valuable third-party verification in support of building and operation system maintenance.
Enhance Tenant Relations
– Illustrate your commitment to proactively protecting human health and safety in your buildings.
When unknown environmental contaminants are suspected of affecting Indoor Air Quality, we can conduct a Sick Building Response Survey. Our survey includes, but is not limited to, occupant/tenant interviews (as needed), a review of the building's history, visual inspection of the HVAC system, and potential environmental risk factors. Sick Building Response Surveys are a reactive measure that is typically initiated by an occupant/tenant complaint. Having a proactive IAQ plan in place also serves as a baseline, which plays a critical role in resolving occupant concerns quickly and efficiently.
Curious about your building's IAQ? CONTACT US