You are reading...
In response to the current COVID-19 pandemic, Hillmann has expanded their services to include COVID-19 training, prevention and response planning, oversight, and ATP surface sampling. Rest assured that our team is closely monitoring the latest Coronavirus (COVID-19) developments. We've taken a proactive approach in protecting our team so that we can continue to help you protect yours as well. As a trusted business partner, with human health and safety at the forefront of everything we do, we're here to assist you.
Our Certified Industrial Hygienists (CIHs) have been working closely with our Principals, Executive Management, Project Managers, and Environmental Specialists to design a range of services aimed at helping our clients protect their staff and/or tenants during this pandemic.
Hillmann Consulting, LLC is currently offering the following COVID-19 related-services:
COVID-19 General Training – Hillmann will conduct a remote COVID-19 course covering general awareness, preventative measures, reactive cleaning & disinfection, protecting staff & occupants and available resources.
COVID-19 Prevention and Response Plan – Hillmann's CIH will provide a COVID-19 Prevention and Response Plan with the appropriate procedures and recommendations to minimize the chance of occupants contracting the virus in accordance with the World Health Organization (WHO) and Centers for Disease Control (CDC) recommendations.  The Plan will include procedures on cleaning procedures and methods, and personal protective equipment to be utilized during said cleaning with the intent of minimizing potential future exposure.
COVID-19 Oversight – Hillmann's professional industrial hygiene and safety staff are available to provide the following items, as needed:
On-going Consultation – Hillmann's staff including Certified Industrial Hygienists and company Principals are available to provide on-going consultation as necessary via phone or in person.
Plan Updates – Hillmann will monitor reported changes to CDC/ WHO response recommendations and update the Response Plan as necessary.
Third Party Response Procedure Oversight – Hillmann will supply an Industrial Hygienist to oversee the implementation of the Plan in order to provide a third-party accounting of procedures followed, areas/ surfaces cleaned and documentation of the entire process.
ATP Surface Sampling – Surface adenosine triphosphate (ATP) concentrations will be collected on various non-porous surfaces, high-touch surfaces.  A percentage of surfaces will be sampled prior to the cleaning/disinfection process to establish a baseline for the work area.  Once the disinfection process has been completed, Hillmann will collect follow up ATP samples on the same surfaces as well as additional surfaces throughout the subject areas. Visual inspection, observation of the disinfection process, along with ATP concentrations will be utilized to assess the level of cleanliness of the sampled surface.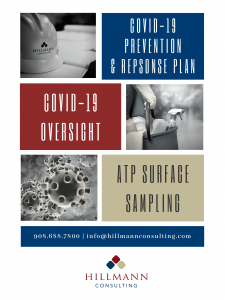 If there is anything we can do to ease your business concerns during these difficult and somewhat uncertain times, please feel free to contact us. Our team has 35 years' experience navigating and mitigating unexpected events (such as flooding, fires, disasters, and pandemics) that may impact human health and safety. Stay safe and be well.
Your Property. Our Priority.